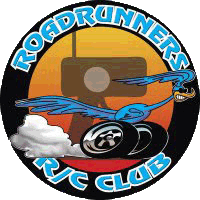 ​2018 Club Race Schedule is here
2018-11-19
We've received confirmation that Cal Fire has begun the enormous task of moving out of Freedom park which should leave racing open for this weekend, watch the calendar
​
2018-11-18
We've made a donation to the Velodrome RC program to help keep some of California's racing history alive
​
2018-11-09
Freedom Park is currently the home to one of Cal Fire's base camps so we are closed until after the fires are under control. The Offroad track is still under construction as we were asked to leave
prior to finishing it.
​
2018-11-08
Construction has started on rebuilding the offroad track to have a fresh layout for the recently extended 3rd of 6 race series ending the 3rd weekend in October
​
2018-11-05
Elections are in! Brian Bosley will remain the president and only board member that ran for 2019
​
2018-11-05
November elections are here! We are looking to fill the board with all positions available. Please message roadrunner.rc1974@gmail.com with your nominations and on 11/5 from 7pm until 9pm, votes will be accepted by email (or facebook poll) by those not able to attend.
​
2018-10-04
Cody Wayne has stepped down as Vice President
Brian Bosley as president is choosing to leave this position vacant until elections and operate both tracks to let the members choose the next board member with an open vote.
​
2018-10-01
Members meeting was cancelled due to lack of interest
​
2018-09-09
​
BFTR was attended by 103 entries and well received
​
2018-08-06
​
The members meeting was rather small an uneventful, we are on schedule for Goldenstate on the 18th/19th and BFTR moving to Sept 8th/9th
​
-Brian
​
---------------------------
​
2018-07-27
​
We are open for business again!! The very minor requirements from parks have been resolved and we have our usage permits back. Offroad racing will resume wet on the 3rd and dry on the 5th
​
BFTR appears to be moving to September 8th/9th with practice on the 7th.
Goldenstate will run on schedule August 18/19th
​
-Brian
---------------------------
​
2018-07-20
​
*** IMPORTANT, PLEASE READ ***
It is with a heavy heart that I must inform everyone that both of the tracks at Camarillo are closed to us indefinitely although you are free to use them independently. JBRL is being redirected to Hot Rod Hobbies, BFTR and Goldenstate have been cancelled. I will be working on refunds for pre entrys soon.
​
I've done my best to leave the tracks setup for success with new asphalt and a fresh offroad build. I've even reached into my own pocket past the club funds to try and keep things moving but the parks are currently an immovable rock in my path. I'm planning on continuing to work around this situation but I can't see a short term fix that would allow us to hold our clubs yearly races. I'm still the president of the club but without a track or location, the 47 year old club is a bit short on a place to race but feel free to message me if you have any ideas on what to do.
​
From what I can tell, it looks like some familiar faces will be taking the tracks over and operating it with the blessing of the parks department. I hope this goes well for everyone and we regain a place to race in our area.
​
Brian Bosley (roadrunner.rc1974@gmail.com)
​
---------------------------
​
2018-07-02
​
Cody Wayne was brought back as the Vice President, in general he is in charge of the offroad track and Brian Bosley is in charge of the onroad track so we are straying from the bylaws a bit here due to lack of board participation.
​
The offroad track was rebuilt on 6/29 in preparation for JBRL and Golden State
​
---------------------------
​
2018-06-17
​
We donated $500 to the Tim Hanson memorial race, thank you to the club members that attended
​
---------------------------
​
​
2018-05-15
​
The June members meeting will be at MB2 in Thousand Oaks (Thanks Greg for the location idea) on Monday June 4th at 19:00
​
---------------------------
​
2018-05-07
​
The club is currently looking to fill the following board positions immediately, please email roadrunner.rc1974@gmail.com with your interest.
​
Vice President
Secretary
Treasurer
​
---------------------------
​
2018-04-20
​
The club is planning on spending roughly $1000 to finish out the perimeter with 2x12 single thickness boards painted green and a slightly better assembly job since the fence is waiting on a meeting with parks to be scheduled. This is likely temporary and will be done around the 28th/29th during the offroad weekend if anybody wants to lend a hand cutting boards and painting. I believe Cody Wayne will be the lead on this project while I'm in Florida. -Brian
​
---------------------------
​
As of 04-15-2015 20:54, the board consists of
President - Brian Bosley
Secretary - Wes Raven

​